Hiya Folks!
Gee, it feels like a million years since I had the time to maintain this shitty little diary thingy. I think I better make a quick little summary of the last three eventful weeks. Hang in there, and we'll be back on track in a giffy...
The last weekend of weekend of september we all packed our instruments to fly to the glorious city of Dublin, Ireland to play our first ever show outside Denmark. Wiiii!
The nice people of the
HWCH
festival caught our show at the Spot opening night and was crazy enough to dig it and invite us over to play at their own festival. A blessing indeed. We got there 2 days early, in perfect time to enjoy the Guiness and hang with the other bands. The
Ono
boys played the most amazing show the first night, and we were all proud and cheering and drunk.
Overall the openness and hospitality of the irish were totally overwhelming to me (Brian & Angela we love you), and they sure seemed to like our wacky tunes as well. Playing our short set felt really good and we even overcame the horror of getting all the gear set up in 10 minutes. Welcome to the real world, spoiled danish brats with your fancy inear wireless what not!
Our new friend, Sinister Pete at
Phantom Radio
did a nice little radio thingy with the captain and I and is now playing our track "Hollywood Conspiracy" at his nationwide show, plus the national WE tv did an interview and steeped us in kindness. For a cookoo band like ours that shit is quite wild.
Here are a few pics,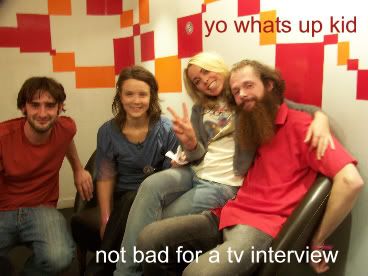 and a video from the show
Btw, check out the wonderful
Ham Sandwich
, who we'll hopefully be doing a tour with in the near future. They also performed at the festival, a great show indeed!
Back home again, the boys teamed up again the next day to record the last 12 songs for our upcoming grind album. These new tunes are even crazier and proggier than the first bunch, and after a day of brush up, we managed to get everything down in less than two days, vocals and all. We were pretty impressed ourselves and celebrated till we were sore :D The album is now in the final mixing stages (kid plexi working overtime), and soon you'll be treated with ecards and fluffy bears (maybe not). If you haven't done so already, go make metalfriends with us
HERE
, and check out the song "Slaves To Truth" while you're at it.
Then on saturday we played for our dear friends in Ringsted at the Metro house. Such nice people and crowd. Always a pleasure. The party was cut very short though, cause we had to be up early for our big videoshoot the next day. You can see the pictures in the blog below, I guess they speak for themselves.
My honey and her playmate, The Blood
had come up with all new outfits for us, since we all had gotten a little tired of the pink, and what better occasion! I don't think people usually shoot videos actually playing live, but it seemed to work magic in keeping everyone's energy up. The song "When I Say Paris, You Don't Say France", will be the first single from our next album (after the grind), so we're way ahead of things but having too much fun to play the game straight :D I think I'll be seeing some of the raw footage next week, can't wait. A festive day indeed, gee my legs were tired after running up and down that bowl all day!
Next week we had the pleasure of opening for our friends and soon to be worldwide sensation,
Alphabeat
, in Store Vega in our hometown. The place was packed when we hit the stage, and it sure was a great feeling to play to that big a crowd. We love you kiddies! The Alphas continued the party in usual form, and everybody was floored with excitement. They're off to London by now, taking over the globe, and we wish them all the best of luck. Remember to give us the support slot again when you're playing Wembley :D
Here's a pic from our show, I believe there's a video on it's way too...
I think that pretty much brings me back to the present, not counting last week, where I was sick as a dog, but still made it to Black Tornado Studios to assist my buddy Jonas in mixing the new Polish hit extravaganza of
Czeslaw Spiewa
Ouch my head!
In the meantime, the
Bones
album I produced with much pride and joy was released to much excitement around the media circuit. They have it all up for streaming
HERE
, go go go
Album of the Month June to July 2007
A Kid Hereafter (DK):"Rich Freedom Flavour" (Iwave)
The problem with A Kid Hereafter is that they can't decide which style of music they would like to play. So they play them all together, pop, surf-punk, heavy-metal, reggae, hardcore, ska, prog-rock; nothing can stop them, not even the dictates of so called"good taste". You can hear some Supertramp and Queen nods in there. And there is even a Yes cover. I admit said like this, it may sound a bit scary. But thanks to their great melodic sense, their inexhaustible energy and their vivid sense of humor, A Kid Hereafter manages to assemble such ill-assorted elements in a consistent and truly amazing album. Great Fun throughout! Enjoy then check the guys out on stage if you can, they're even better live!
From the ROCKOMONDO Report
This lovely review and album of the month honors come from Jean-Pierre Moya an eminent authority on European and Scandinavian music. You can check out his show online every Thursday night here